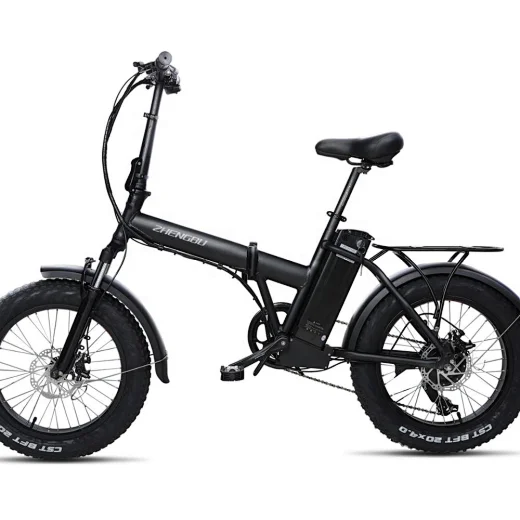 Suspension electric fat tire folding electric bike ebike
F6
Minimum order quantity:
5 pieces
Supply Ability:
30000.0pieces / Month
Country of Origin:
Guangzhou
Motor Power:35W
Battery:48V 10Ah Lithium Battery
Charger:AC 100V-240V 2amps
Meter:handlebar display throttle + key
Brake:mechanical disc brake
Front fork:suspension
Package size:110x44x81cm
Rough weight:27kg
Maximun loading:125kg
Combo Set Offered:0
Wattage:200 - 250W
Voltage:48V
Power Supply:Lithium Battery
Wheel Size:20"
Motor:Brushless
Frame Material:Aluminum Alloy
Foldable:yes
Range per Power:31 - 60 km
Style:Standard
Rated Passenger Capacity:One Seat
Place of Origin:CN;GUA
Max Speed:25-32km/h
Brand Name:zhengbu
Model Number:F6
Zhengbu Foldable Fat Tire Electric Bicycle F6

Motor

450W

Frame material

aliminum alloy foldable

Battery

48v 10Ah lithium

Front fork

suspension

Asist system

speed intelligent asist symstem

Head bowl

semi-hidden eight-piece bowl

Controller

intelligent brushless

Handle bar

aluminum alloy

Charger

AC 100v-240v 2Aamps

intelligent charger 3-5hrs

Stem

aluminum alloy folding

Maximum speed

25-32km/h

Brake lever

aluminum alloy with switch

Meter

handlebar display throttle + key

Brake

mechanical disc brake

Full charge endurance

40km

Tire

CST 20inchx4.0

Net weight

27kg

Rim

spoke rim

Rough weight

30kg

Hub

aluminum alloy front hub

Maximum loading

125kg

Pedal

aluminum alloy reflector

Package size

110x44x81cm manner of packing 100% 

Chain

TW KMC chain 

Chain cover

NIL

Chain wheel

steel 48t aluminum alloy 

Axis

sealed axis

Mudapron

pp plastic

Saddle

saddle leather face

Seat post

aluminum alloy damping

Optional configuration

lamp/fix tool

Delivery time

30days

Derailleur

SHI. 7 speed

Spoke

45#steel 13G with cooper cap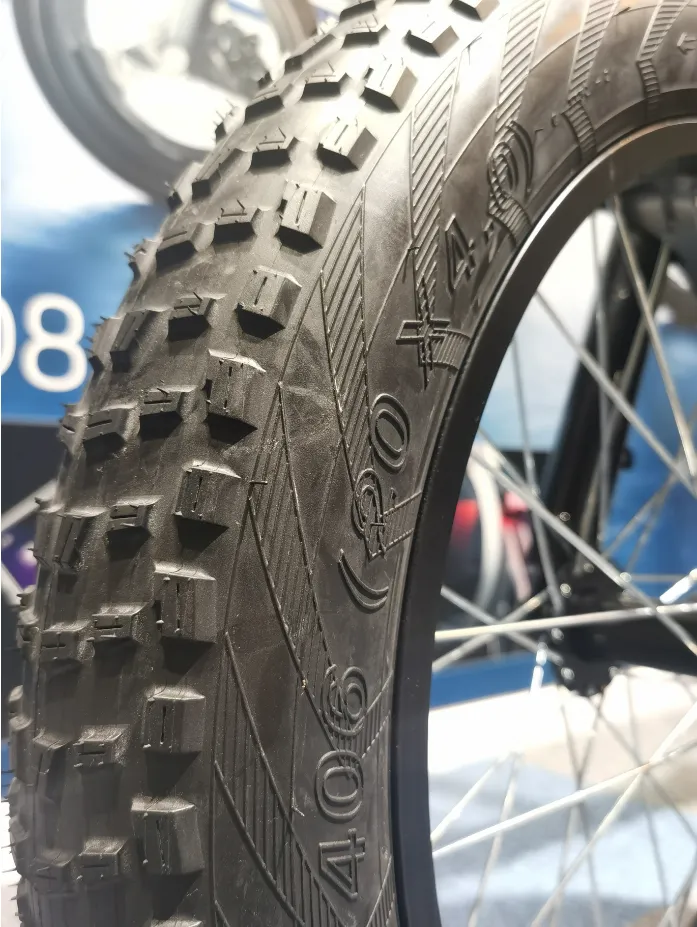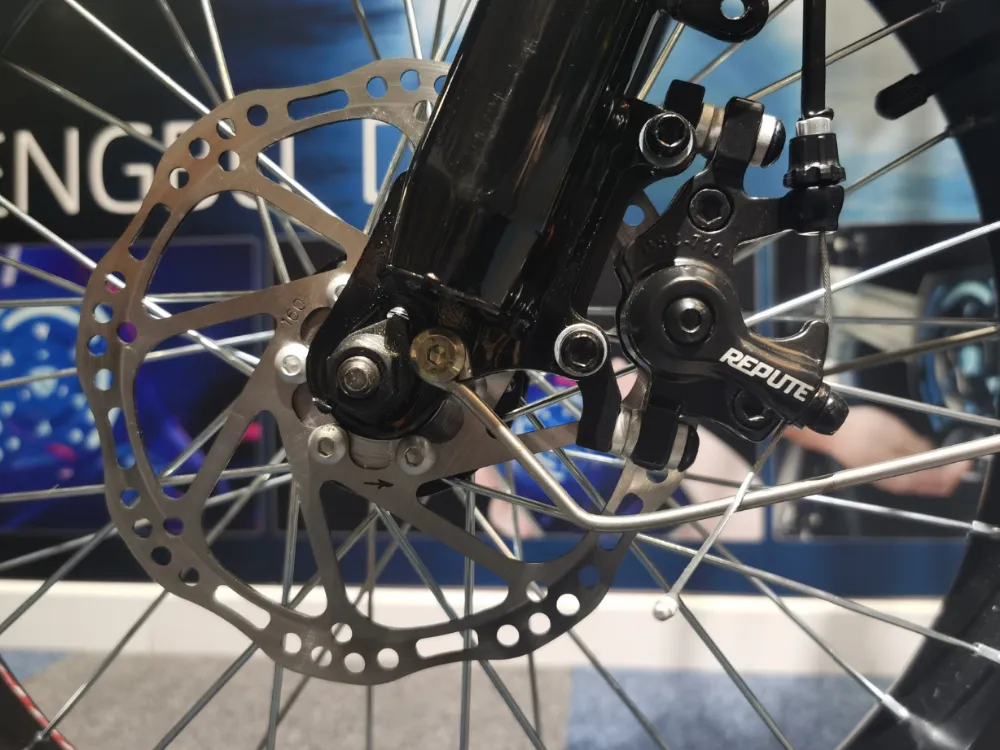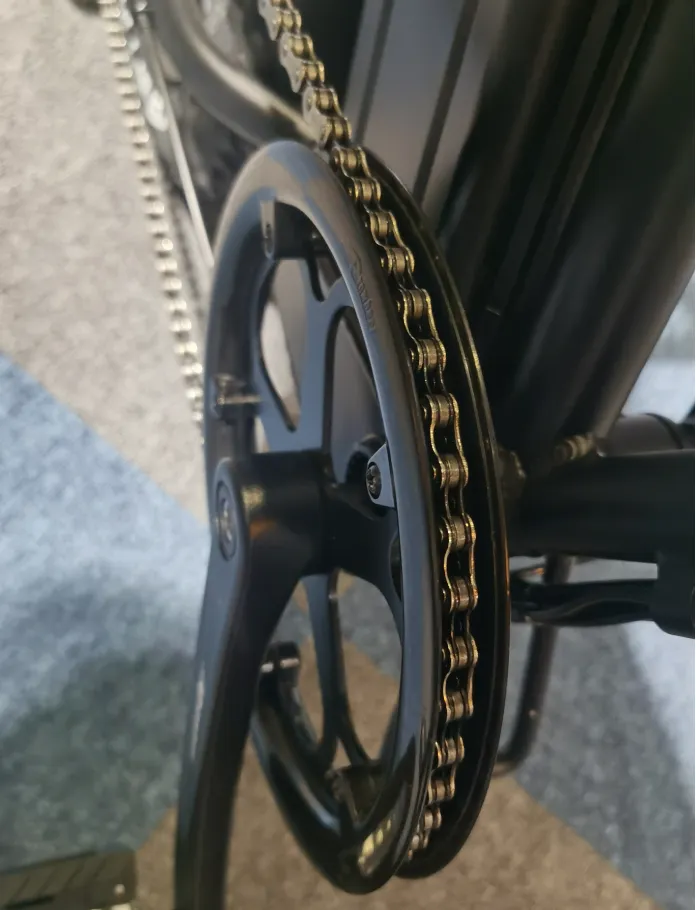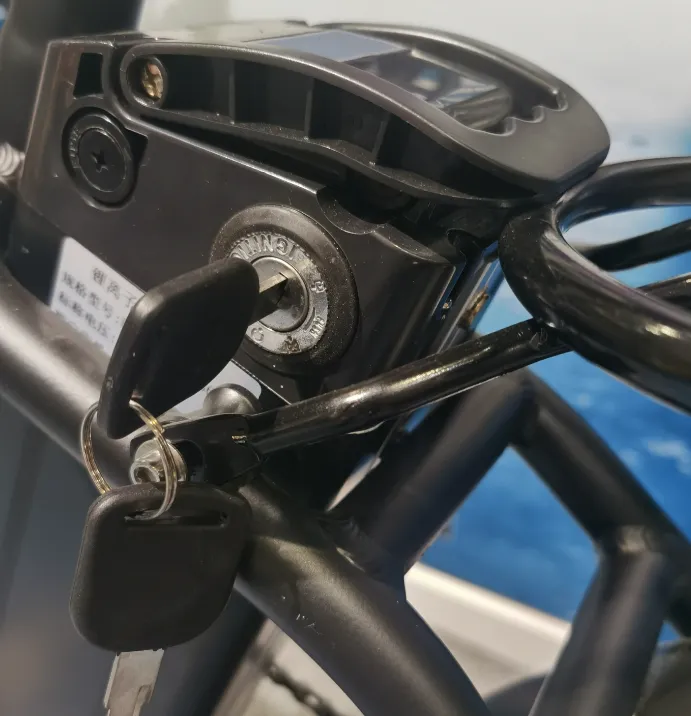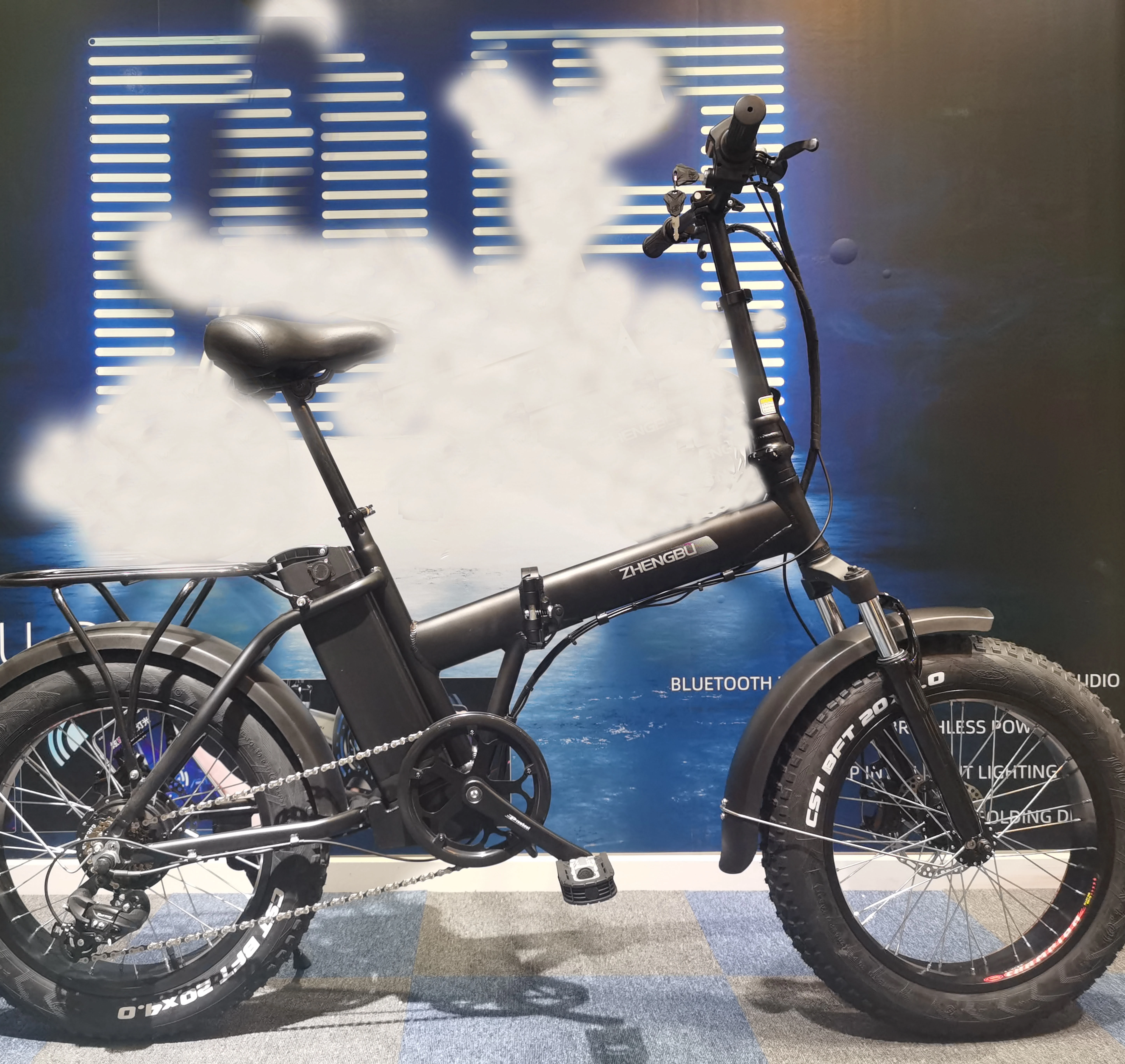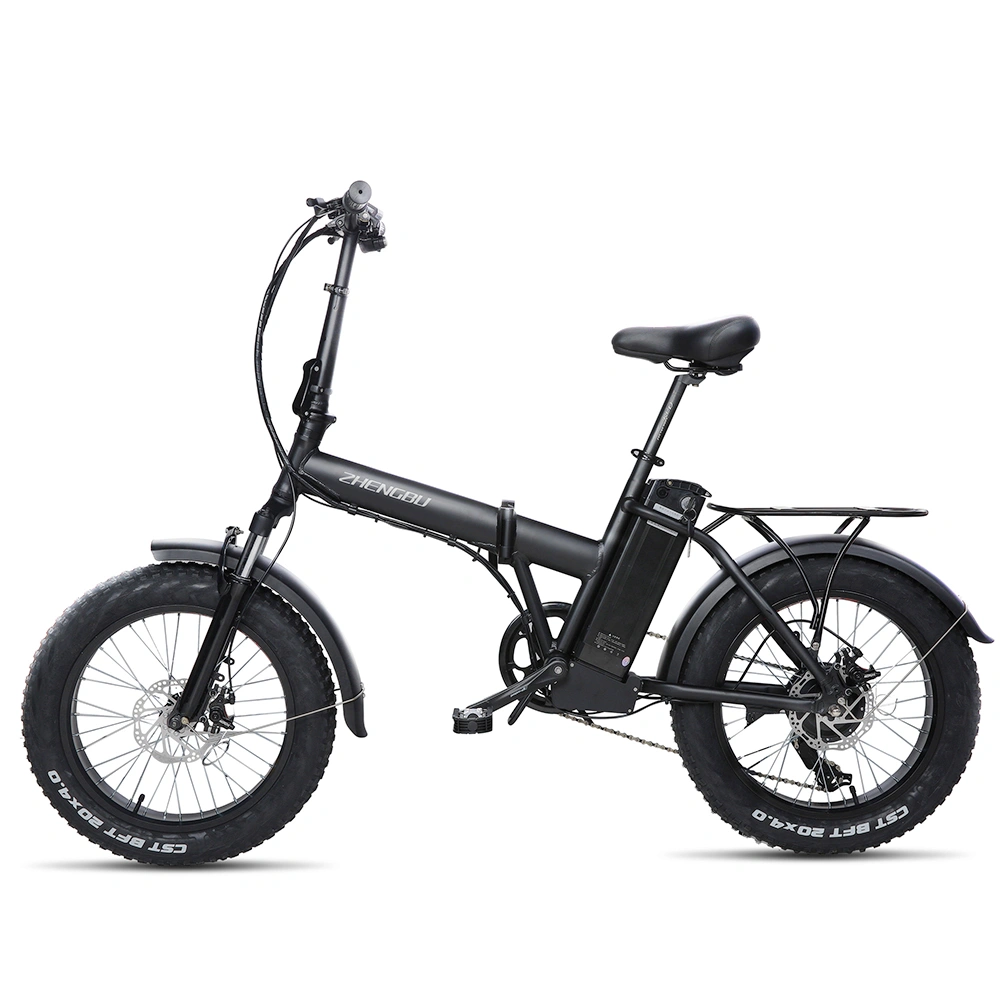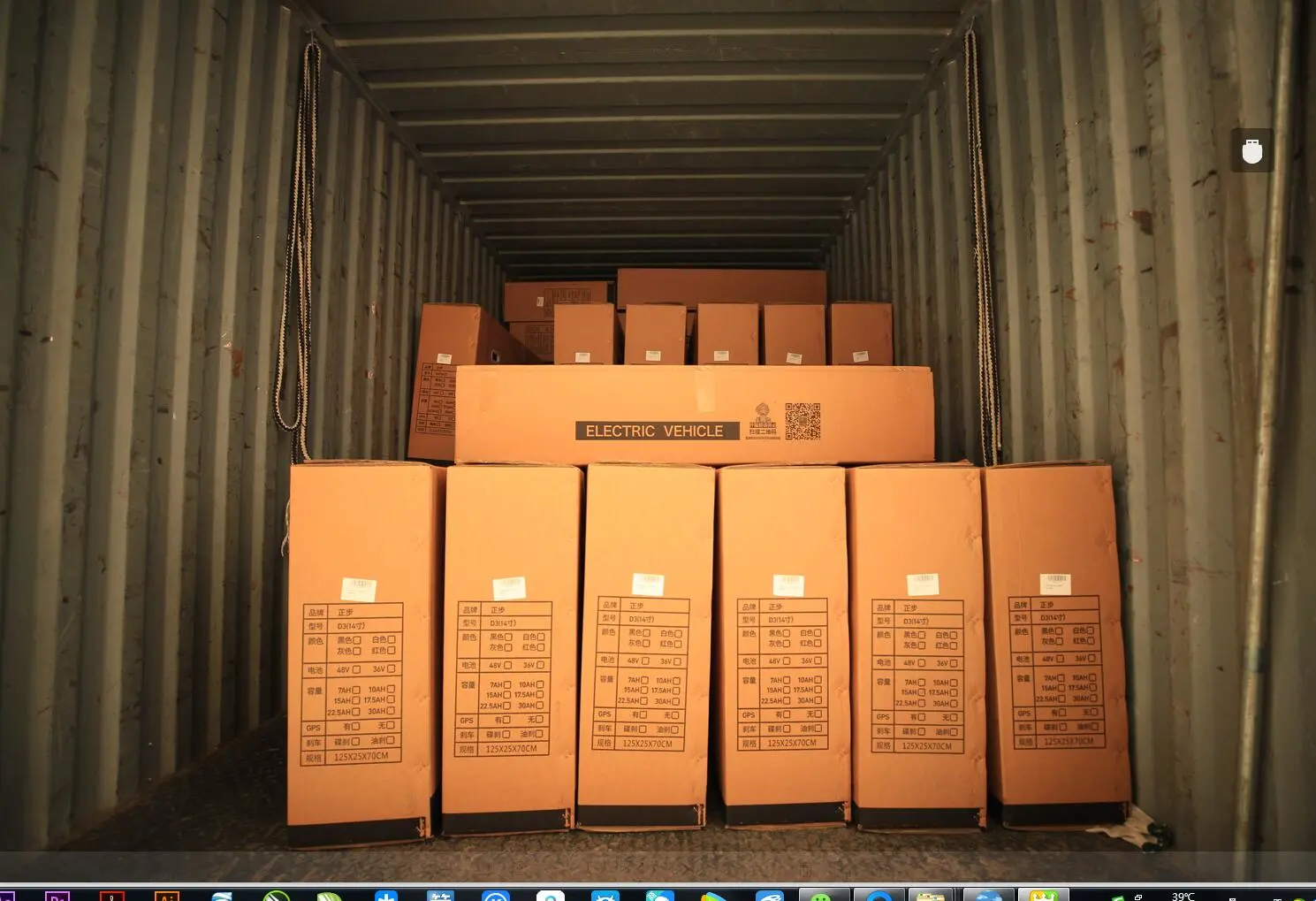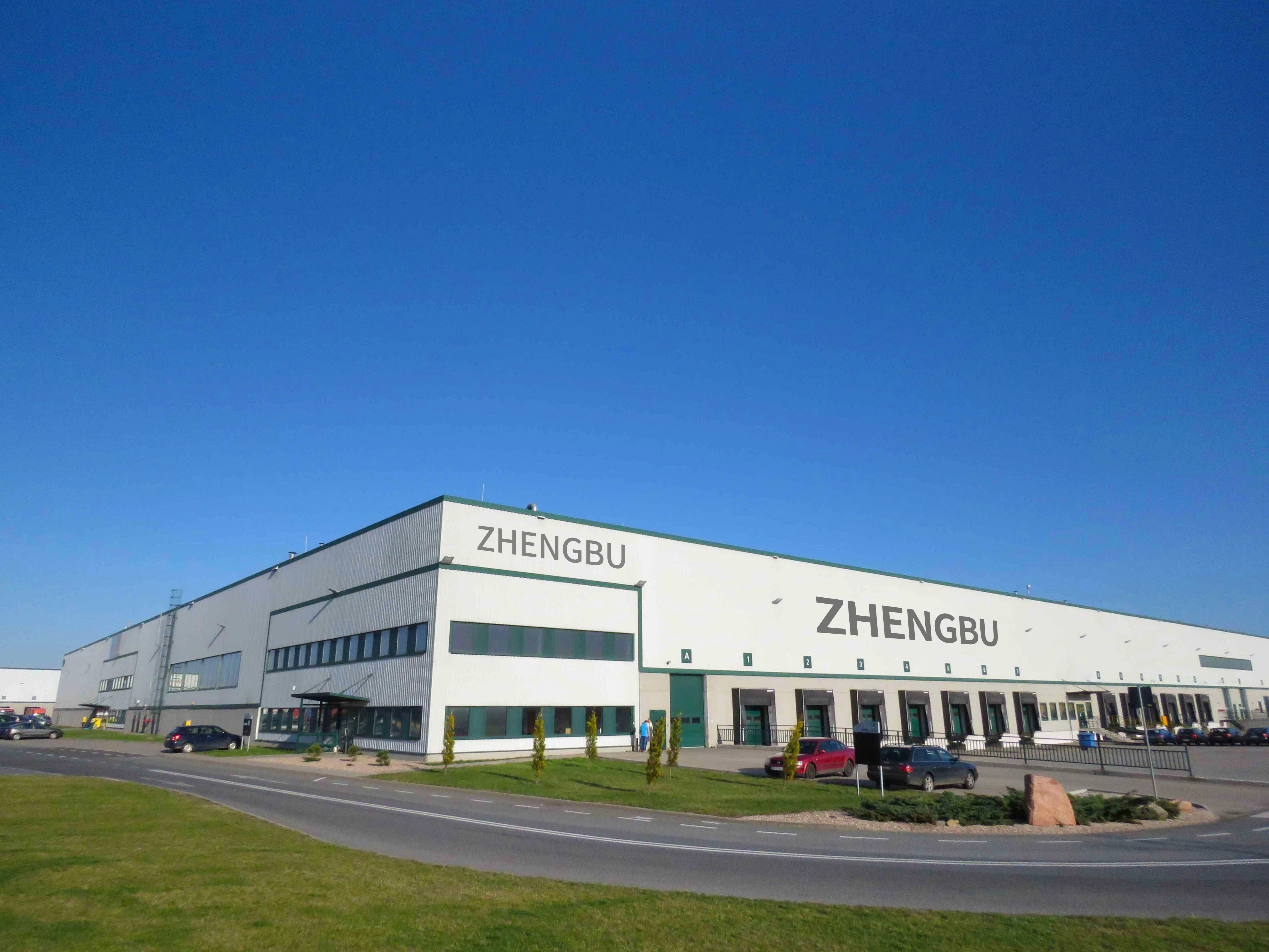 FOSHAN ZHENGBU TECHNOLOGY CO., LTD
FOSHAN ZHENGBU TECHNOLOGY CO., LTD established in 2013,located in Foshan city,near Guangzhou,Guangdong Province. We specializes in manufacturing electric bicycle,mountain bike and electric scooter etc. for 8 years.Our factory covers an area of over 6,000 square meters.The company's annual turnover reaches 40 million US dollars. Our products are sold to Europe, Asia, North America, Middle East and Oceania Market etc. In addition, we are also CE certified and have three brands, 

ZHENGBU, SIROQUE 

and 

GDANNY. 

We work with German designer Lucas and our R&D team has obtained important patents in China. In order to be in line with the market, we participates in exhibitions every year, for example, Canton Fair, China International Bicycle Exhibition etc. If you have any ideas about our products, please contact us. We look forward to working with you to bring you a satisfactory product and hope it can be helpful to your business!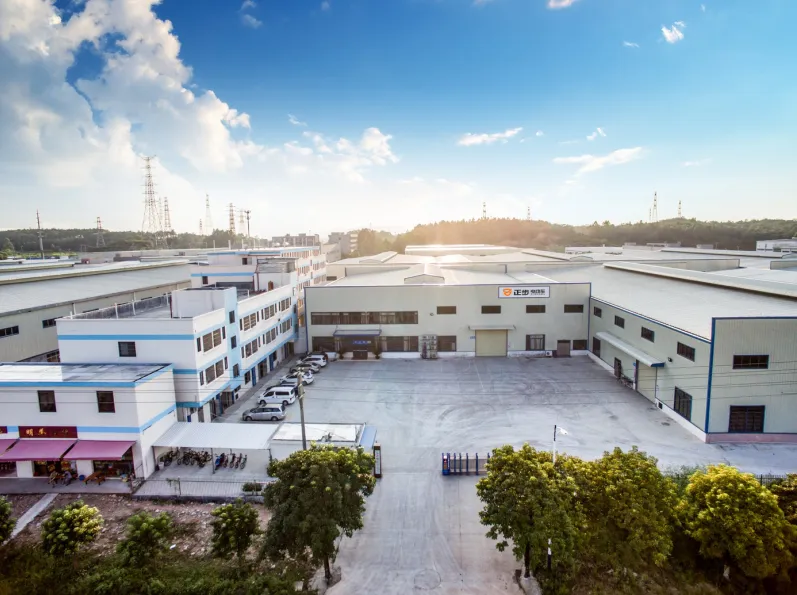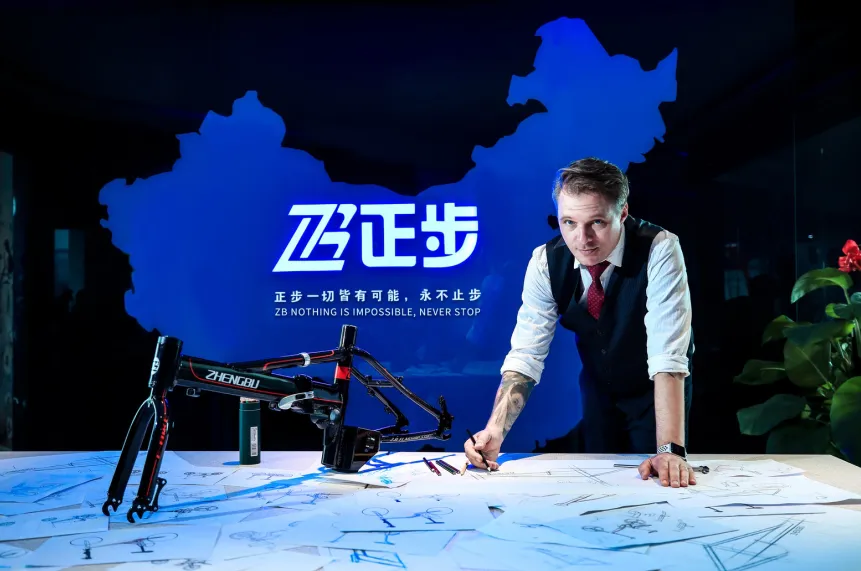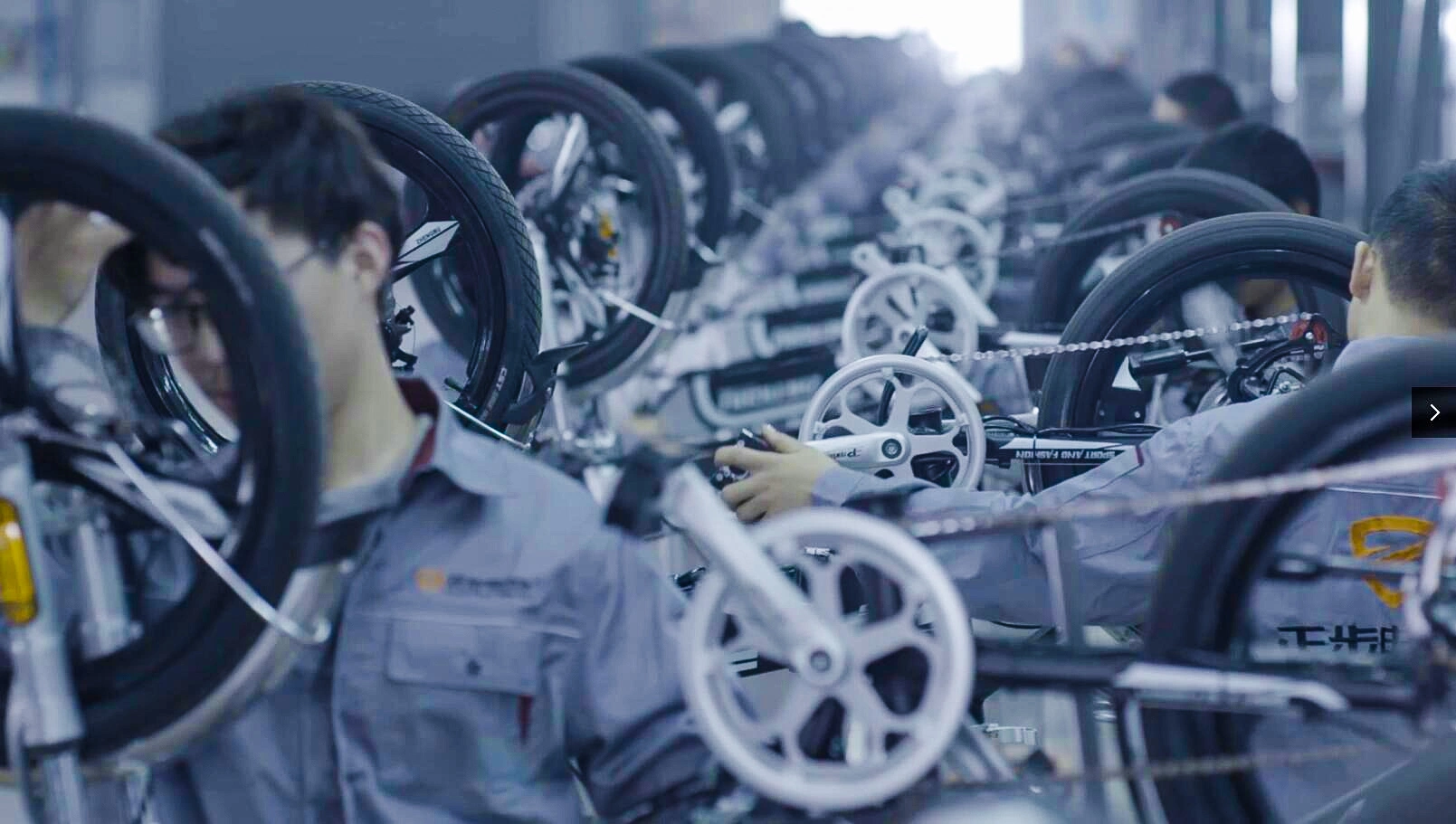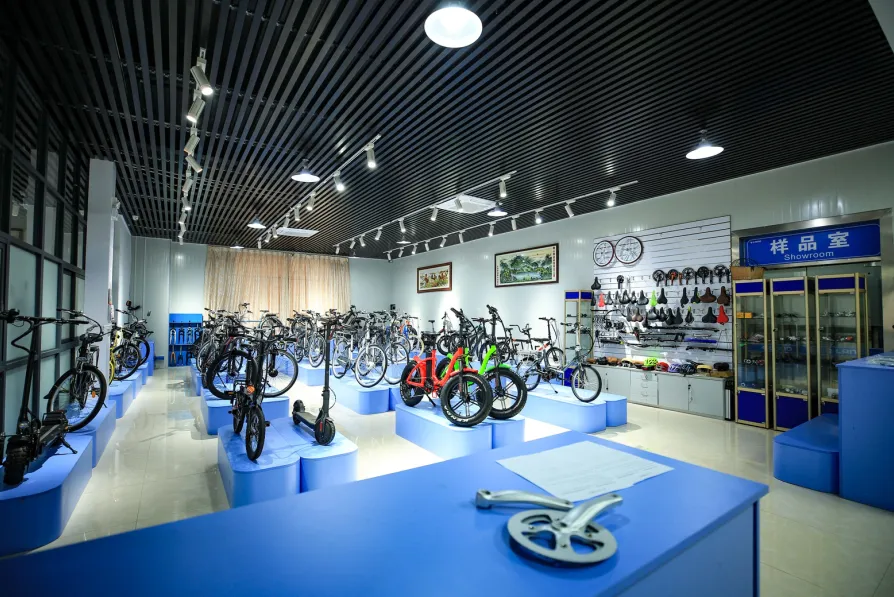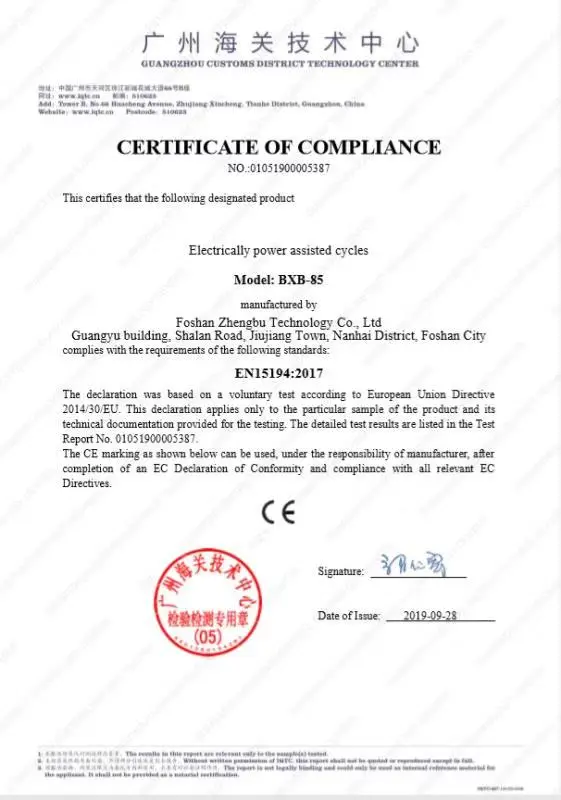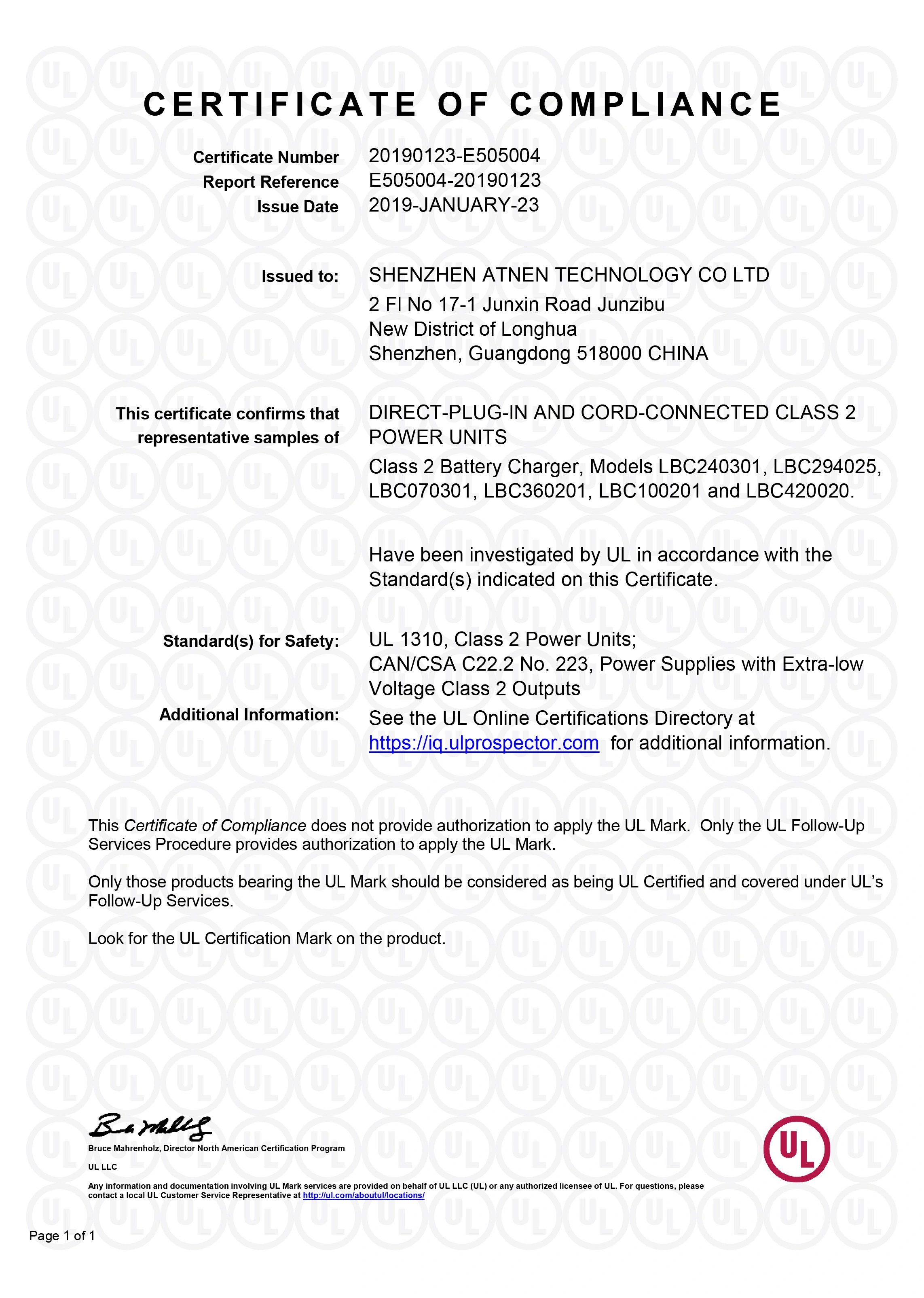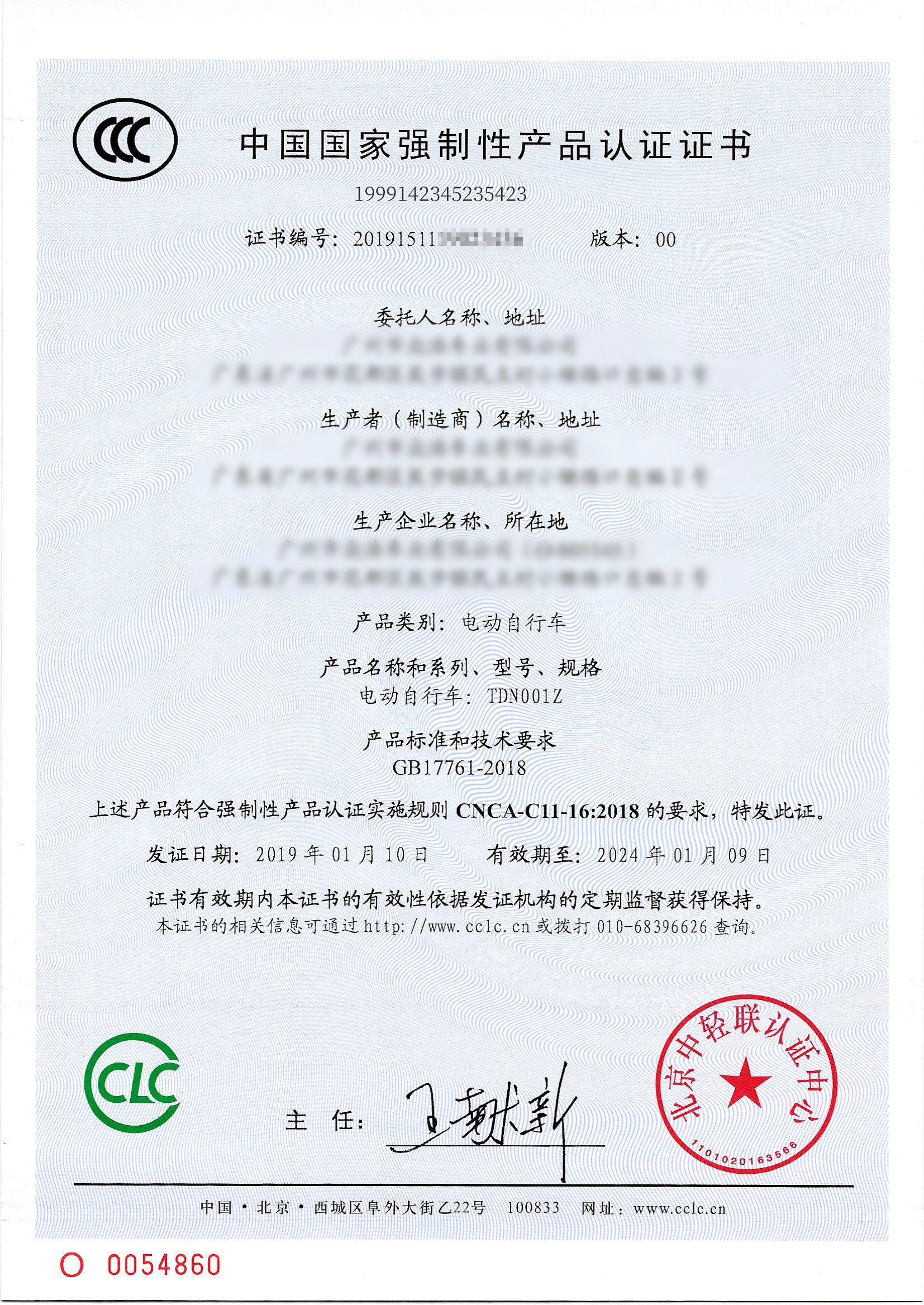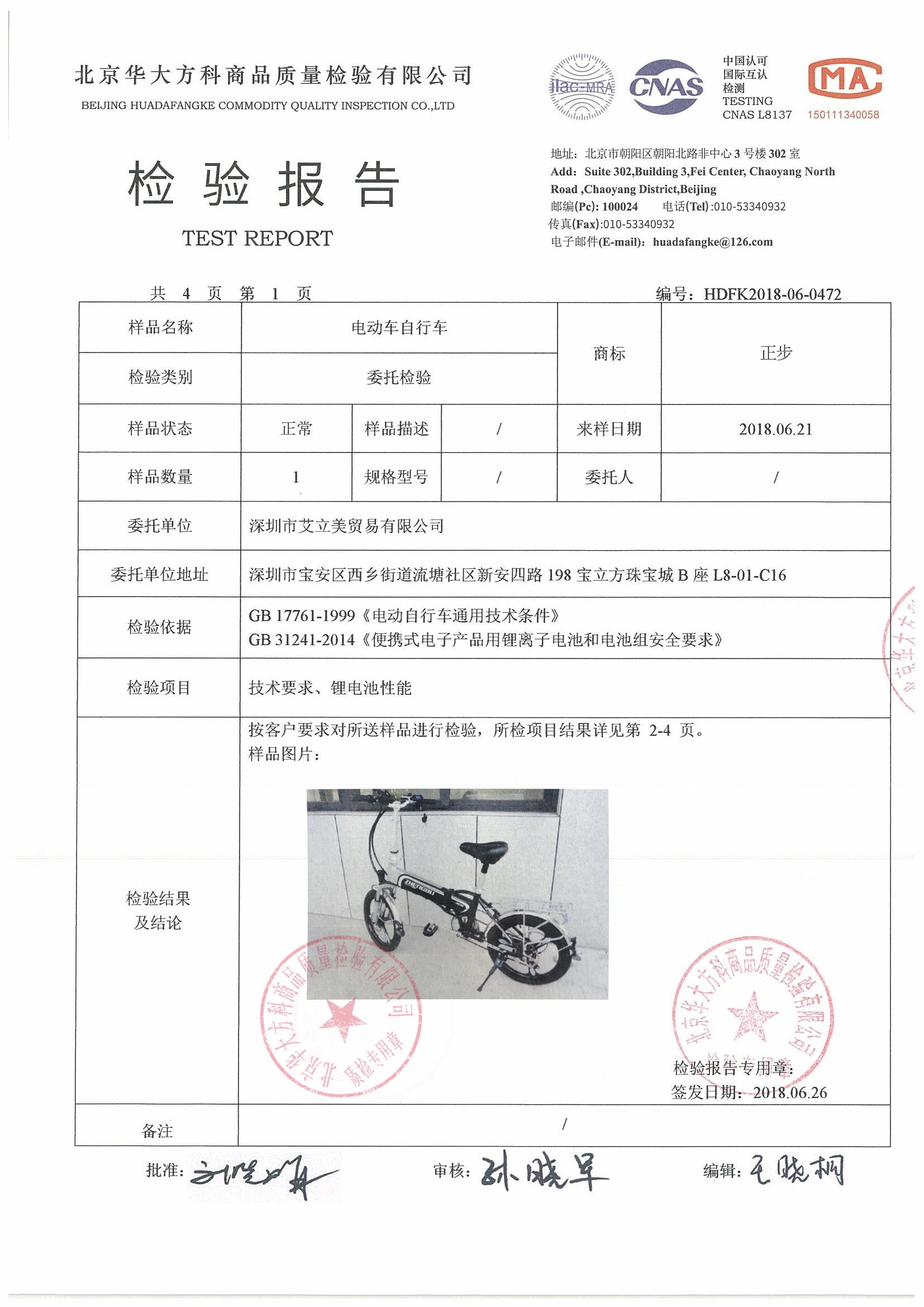 Q1. What's the MOQ and delivery time?
1) For samples, 1 piece is available for quality check and market test, delivery time within 3-5 days.
2) For bulk order, 50~100 pcs delivery time within 20 days, about 100 pcs(20'GP) delivery time 25~30 days, 260pcs(40'HC) delivery time 25~30 days.
3) Customized logo & package only available for MOQ 100 pcs.
4) Customized configuration, depends on the delivery time of selected kits.

Q2. What's the warranty terms?
Our warranty covers manufacturing and material defects, and does not cover normal wear and tear, damage/failure due to an accident, incidental or consequential damage, or any use of the product that's inconsistent with the operating instructions as laid out in our user manual.

Q3. What's the payment terms?
1) For samples, T/T 100% as deposit, you can pay via Alibaba Trade Assurance for payment protection.
2) For bulk orders, T/T 30% as deposit and T/T 70% before delivery. We'll show you the photos of your products and packages before you pay the balance.

Q4. Do you have the products in stock?
Yes, we always keep more than 50 pcs of standard version in stock, so that you can receive the samples in a very short time.
suspension electric bike 48v,folding suspension electric bicycle ,folding suspension electric bicycles ,electric folding bikes suspension,48v electric dirt bike ,ebike ,electric bike ,ebike folding electric bike,electric bike ebike electric bike ebike,electric bike ebike electric bike ebike ,folding ebike electric bike bicycle,folding electric ebike suspension electric bike 48v,folding suspension electric bicycle ,folding suspension electric bicycles ,electric folding bikes suspension,48v electric dirt bike ,ebike ,electric bike ,ebike folding electric bike,electric bike ebike electric bike ebike,electric bike ebike electric bike ebike ,folding ebike electric bike bicycle,folding electric ebike suspension electric bike 48v,folding suspension electric bicycle ,folding suspension electric bicycles ,electric folding bikes suspension,48v electric dirt bike ,ebike ,electric bike ,ebike folding electric bike,electric bike ebike electric bike ebike,electric bike ebike electric bike ebike ,folding ebike electric bike bicycle,folding electric ebike suspension electric bike 48v,folding suspension electric bicycle ,folding suspension electric bicycles ,electric folding bikes suspension,48v electric dirt bike ,ebike ,electric bike ,ebike folding electric bike,electric bike ebike electric bike ebike,electric bike ebike electric bike ebike ,folding ebike electric bike bicycle,folding electric ebike suspension electric bike 48v,folding suspension electric bicycle ,folding suspension electric bicycles ,electric folding bikes suspension,48v electric dirt bike ,ebike ,electric bike ,ebike folding electric bike,electric bike ebike electric bike ebike,electric bike ebike electric bike ebike ,folding ebike electric bike bicycle,folding electric ebike suspension electric bike 48v,folding suspension electric bicycle ,folding suspension electric bicycles ,electric folding bikes suspension,48v electric dirt bike ,ebike ,electric bike ,ebike folding electric bike,electric bike ebike electric bike ebike,electric bike ebike electric bike ebike ,folding ebike electric bike bicycle,folding electric ebike suspension electric bike 48v,folding suspension electric bicycle ,folding suspension electric bicycles ,electric folding bikes suspension,48v electric dirt bike ,ebike ,electric bike ,ebike folding electric bike,electric bike ebike electric bike ebike,electric bike ebike electric bike ebike ,folding ebike electric bike bicycle,folding electric ebike suspension electric bike 48v,folding suspension electric bicycle ,folding suspension electric bicycles ,electric folding bikes suspension,48v electric dirt bike ,ebike ,electric bike ,ebike folding electric bike,electric bike ebike electric bike ebike,electric bike ebike electric bike ebike ,folding ebike electric bike bicycle,folding electric ebike suspension electric bike 48v,folding suspension electric bicycle ,folding suspension electric bicycles ,electric folding bikes suspension,48v electric dirt bike ,ebike ,electric bike ,ebike folding electric bike,electric bike ebike electric bike ebike,electric bike ebike electric bike ebike ,folding ebike electric bike bicycle,folding electric ebike suspension electric bike 48v,folding suspension electric bicycle ,folding suspension electric bicycles ,electric folding bikes suspension,48v electric dirt bike ,ebike ,electric bike ,ebike folding electric bike,electric bike ebike electric bike ebike,electric bike ebike electric bike ebike ,folding ebike electric bike bicycle,folding electric ebike suspension electric bike 48v,folding suspension electric bicycle ,folding suspension electric bicycles ,electric folding bikes suspension,48v electric dirt bike ,ebike ,electric bike ,ebike folding electric bike,electric bike ebike electric bike ebike,electric bike ebike electric bike ebike ,folding ebike electric bike bicycle,folding electric ebike suspension electric bike 48v,folding suspension electric bicycle ,folding suspension electric bicycles ,electric folding bikes suspension,48v electric dirt bike ,ebike ,electric bike ,ebike folding electric bike,electric bike ebike electric bike ebike,electric bike ebike electric bike ebike ,folding ebike electric bike bicycle,folding electric ebike suspension electric bike 48v,folding suspension electric bicycle ,folding suspension electric bicycles ,electric folding bikes suspension,48v electric dirt bike ,ebike ,electric bike ,ebike folding electric bike,electric bike ebike electric bike ebike,electric bike ebike electric bike ebike ,folding ebike electric bike bicycle,folding electric ebike